Scrambled Egg With Smoked Salmon
AskCy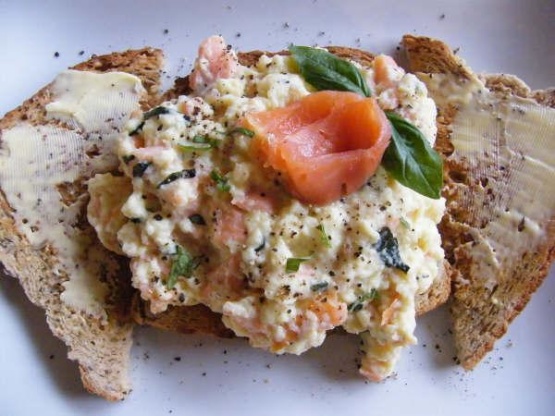 A simple breakfast idea mixing the smokey flavours of fresh cured salmon and traditional scrambled eggs, served on toast.

I would give this a higher rating if the amount of milk is fixed. Like Zurie, I agree that this is way too much milk... The mixture would not hold together because it was too liquidy. Therefore, instead of serving it on bread like I had planned, we served it beside toast on a plate. It was yummy and I would make it again and cut the milk in half. Thanks for the recipe, I like smoked salmon and like to find recipes for it.
warm a pan and add the butter to coat it.
mix the egg and milk and pour into pan.
cooking on a warm to medium heat gently stir the eggs until almost ready for serving
when the mixture is still a little runny add the salmon and chopped basil.
cook for another minute so the salmon just starts to change colour.
Serve on freshly toasted bread.
spinkle a little extra basil over.
if you have any left also garnish with a twist of salmon.
eat at once.