Nimz1466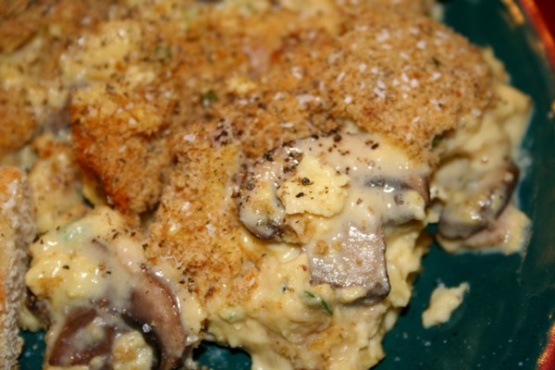 This is a great brunch casserole, plan ahead as this casserole needs to sit in fridge for 2-3 hours before baking or just prepare a day ahead and bake the next day.

Top Review by Bobbie
I've been making this casserole for a very long time (found the recipe in one of my old Taste of Home cookbooks). It never fails to please everyone. Very convenient since it can be prepared ahead of time and then baked when guests arrive. I like to add a can of chopped green chilies. I highly recommend adding this to you "go to" breakfast and brunch recipes.
In a med saucepan melt 2 tablespoons of butter.
Add flour, salt and pepper; cook and stir until mixture begins to bubble.
Gradually stir in milk; cook until thickened and bubbly; stirring constantly.
Remove from heat then mix in the Velveeta cheese until melted; set aside.
In a large skillet, saute ham and onions in 3 tablespoons of butter until the green onions are tender (about 2 minutes).
Add eggs; cook over med heat, stirring occasionally until eggs begin to set.
Add the mushrooms and cheese sauce; mix well.
Pour into greased 11x7 baking dish.
Melt remaining butter; toss with bread crumbs.
Sprinkle over top of casserole.
Cover and refrigerate 2-3 hours or overnight.
Remove from the refrigerator 30 minutes before baking.
Bake uncovered in a preheated 350 degree F oven for 25-30 minutes, or until top is golden brown.