Scrambled Egg and Bacon Sandwich
Nimz1466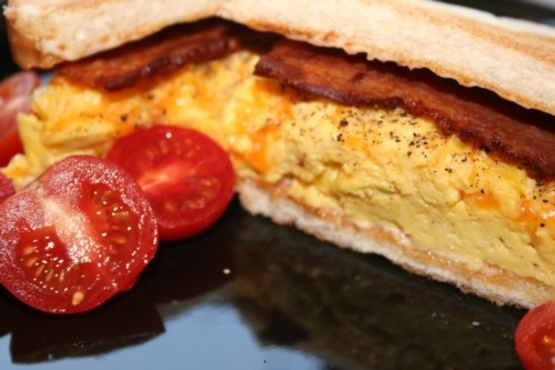 This is just a simple breakfast sandwich that my family loves. This sandwich can be eaten as is, or doctored any way you choose to suit your taste. Some like to add lettuce and tomato....some like to add cheese.....some prefer wheat bread...others prefer white.....just feel free to adjust any way you like!!!

I top it off with a splash of Tabasco.
Slice the 2 slices bacon in half and cook to a crisp.
Drain on paper towel, and pour drippings out of pan.
Whip egg with water, add salt and pepper and scramble eggs in same pan in which the bacon was cooked.
Remove egg to cool.
After bread has toasted, spread with mayo and layer on eggs and bacon.
Slice and serve with favorite breakfast beverage.