Scottish Whipped Shortbread
Karen..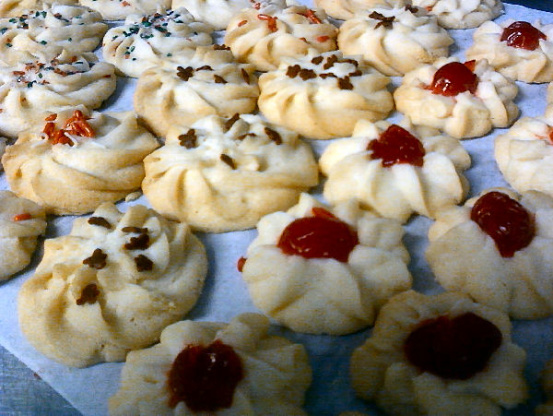 I've searched high and low for a shortbread cookie recipe that melts in your mouth. When I was buying a package of Gay Lea butter one day, I found a recipe at the back of the carton. My long search was completed...I have found my recipe.

The texture is great and the dough is easy to handle. Buttery and melt in your mouth, but not very sweet, so they definitely need a good sprinkling of sugar on top. I got almost 7 dozen cookies out of the recipe, though the yield listed is much less. I'm glad I didn't double it! Also, the directions say to cream the butter and then it says to add the butter to an electric mixer with the other ingredients. Not a problem for a seasoned cook, but I think a new baker would be confused by this, as the butter would already be in the mixer bowl where you creamed it. I used a piping bag to do these and it went very quickly (much more than a teaspoon of dough per cookie). Baked in a convection oven and they took about 25 minutes. All in all, I'm very happy with this recipe and will continue to use it...thanks!
Preheat oven to 350°F (180°C).
Line cookie sheat with parchment paper if possible.
Cream butter.
Sift together icing sugar, cornstarch, and flour.
Add dry ingredients and vanilla to the butter and beat until consistency of whipped butter.
Drop by teaspoon onto parcment lined baking sheet. Or can use a cookie gun with star tip or sprtiz tip to form cookies.
May decorate with small pieces of green or red cherries or colour sprinkles.
Bake at 350°F (180°C) or 15-20 minutes.
Stores well in covered tin.