sticki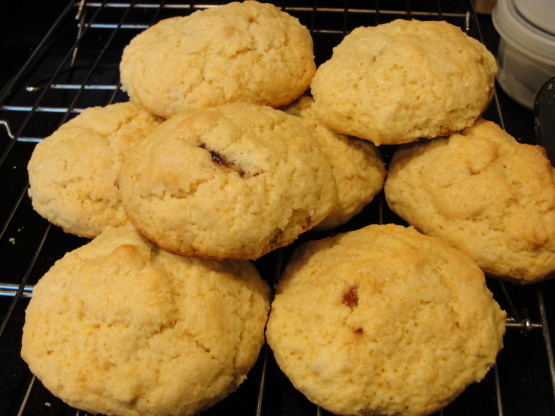 I am dedicating this delicious recipe to Barb Talkington, Barbara Mooers, Diana Neal, and Lennie, without whose advice and guidance I would never have been able to make them properly!
These are EXTRA good!! Infact, if I could rate it 6 stars, I would! I made them yesterday, for my mother for Mother's Day - but we ate them ALL(!!), as my mother ended up in hospital, but will definately be making these very soon again! I'm sure she's going to love them as much as we do!
Set oven to 425°F or Mark 7.
Grease and flour baking sheets.
Sift the flour into a bowl and rub in the margarine.
Add the sugar and the beaten egg with enough milk to make a fairly stiff consistency.
Divide the mixture into about walnut-size balls and place on baking sheet, allowing space for them to spread slightly during cooking.
Make a small hole in the centre of each bal1 and spoon in a little raspberry jam.
Pinch the edges together again.
Dust lightly with caster sugar.
Bake for 10 minutes then reduce heat to 350°F or Mark 4 and bake for a further 5 minutes.
The buns should be light golden in colour.
Cool on a wire rack.
Store in an airtight container at room temperature.