Scottish Chocolate and Orange Mousse With Whiskey
Jostlori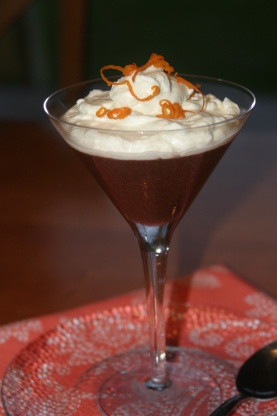 The most love chocolate mousse. Try this you will not regret it!

Oh. My. Goodness. I definitely do NOT regret trying this! It was decadent, rich, chocolatey fudgy. Oh, what other adjectives can I use? AWESOME! The orange totally complements the chocolate, and the whiskey is just a slight nuance that you almost can't put your finger on. YUMMY!!! Made for ZWT8 Zingo. Thanks, awalde, for another great recipe!
Mousse

8

ounces chocolate, coarsely grated

3

very fresh eggs, separated into whites and yolks

2

tablespoons Scotch whisky

2

tablespoons heavy cream (whipping cream)

1

orange, finely grated rind only

Topping

3⁄4 cup heavy cream (whipping cream)

2

tablespoons Scotch whisky
1⁄2 teaspoon powdered sugar
1⁄2 orange, zest use the vegetable peeler and cut into thin strips
Combine chocolate, whisky and cream in a heatproof bowl and place over pan of simmering hot water, stirring until melted.
Remove from the heat and allow cooling slightly.
Beat egg whites to hard peaks.
Beat the yolks with the finely grated orange rind.
Add egg yolk mixture into the cooled chocolate cream, stir.
Fold in the whisked egg whites.
Spoon the mixture into six individual cups or glasses.
Chill in the fridge for at least three hours.
Just before serving, whip the cream for the topping with powdered sugar add the whisky and whip shortly again.
Spoon cream over the mosse, top with orange zest strips and serve immediately.