Scottish Buttermilk Steel Cut Oat Scones
babygoat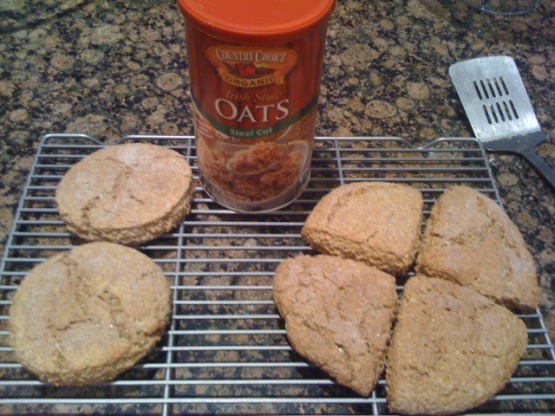 Steel cut oats are my new passion. I haven't tried this recipe yet, but will shortly. It comes from Bob's Red Mill, an excellent brand of healthy grains, etc. The recipe seems a tad fussy, but my mouth waters just thinking about the yummy (and healthy) end result.

I tweaked this recipe because when I added the 1/2 cup oat flour and 1/2 cup wheat flour and 1/4 cup white flour - it just wasn't enough to make a dough - I got a watery glob of stuff after I added the soaked steel cut oats. I added more flour and an egg - about a cup more flour in total and still that wasn't just enough and I wound up spooning these onto a baking sheet. The texture was not what I wanted. I have corrected the recipe to reflect the added flour. If you are any kind of baker and have worked with dough, you will see what I mean. The taste of these was ok, but with the revisions (if Food approves) makes this recipe doable. I also added 1 cup of blackberries which made a lot of difference in taste/flavor.
Preheat oven to 350F degrees.
Place the oats in a pie pan and toast them for 20 minutes, stirring often to toast evenly and not burn.
Remove when slightly golden.
Combine oats with buttermilk in a small bowl and let stand for 20 minutes.
In a large bowl, combine the flours, baking soda, sugar, baking powder, salt and dried currants.
Reset the oven to 400F degrees.
Butter a baking sheet.
Using a pastry blender, cut the 4 tablespoons butter into the flour until the texture is coarsely crumbled.
Stir in the buttermilk/oat mixture until combined.
Flour your hands and scoop up the dough, forming it into a ball. Do not overmix.
Press the ball of dough directly into the pan, then press into a 3/4" thick circle.
With a sharp knife, score the surface, almost to the bottom, making eight wedges.
Brush the surface with milk and sprinkle a bit of sugar and cinnamon on top.
Bake for 12 to 15 minutes.
Cut into wedges.