Deb G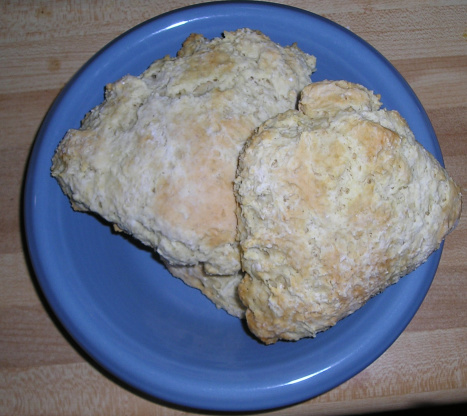 A soft scone eaten at breakfast with just butter. Delicious. I have to make them now as it is very hard to find a good baker these days. Supermarkets have taken over in scotland.

Top Review by Deb G
Very good scone to have with your tea! I used oat bran, and that 2 tablespoons really gives it a distinctive flavor that sets them above other basic scones or biscuits! Really I would give it 4 1/2 stars, because I did have a little trouble with the vagueness about the thickness and size of the dough before dividing into fourths. After checking other scone recipes, I made it 1 inch thick, resulting in a circle of about 7 1/2 inches across. I baked the 4 scones at 325 degrees F for 25 minutes, and they were perfectly golden brown and delicious! Good with butter, honey, red plum jam or . . . . (Made for My-3-Chefs)
Sieve dry ingredients.
Mix in butter with a fork.
Use as much milk as required to make a very soft dough.
Shape into a thick round.
Score into a quarter; dust with flour.
Bake for 30 to 35 minutes at 170 degrees Celsius.