Scotch Eggs, Baked Not Fried!
ImPat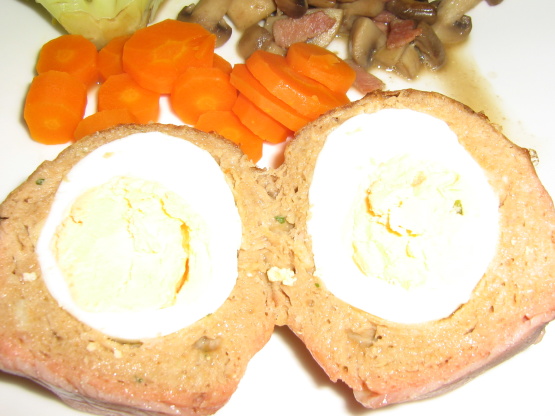 I made these at work today and thought they were pretty tasty. I also liked the fact they were baked, not fried. The bacon was a nice addition too. Prep time includes boiling and peeling the eggs. These can be eaten hot or cold and are nice with a good relish.

Top Review by ImPat
A good economical meal that is easy to put together and using a muffin tin makes it even easier. I scaled it back to 6 as I had 1/2k of ground sausage (cost $2) but unfortunately when I went to boil the eggs I only had 5 so made up 4 and used 1/2 of the fifth in the mix. Thanks JustJanS, made as a pressie for 12 days of Christmas Recipe Swap.
Preheat the oven to 200 degrees Celsius or 375 degrees Fahrenheit.
Soak the bread in the milk for 1 minute; squeeze dry.
Combine the bread, sausage meat, raw egg, parsley, nutmeg, salt and pepper. Mix well.
Lightly oil a 12 cup muffin tray; line each cup with a slice of bacon.
Cover with a layer of sausage mixture; add a hard boiled egg, pointy end up.
Enclose the egg completely with more sausage meat mixture.
Bake uncovered for 20 minutes or until cooked through.