HapaGirl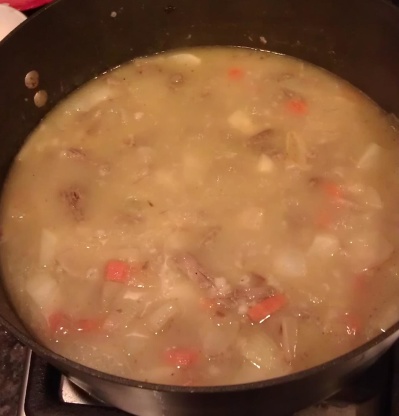 This is a staple in every self-respecting Scottish household. It will take the chill out of you on a cold winter's evening.

Top Review by Lorac
A soup lovers dream! I used meaty lamb shanks and added 6 beef bouillion cubes to the water. I substituted rutabega for the turnip, added a chopped parsnip, 2 pressed garlic cloves, bay leaf and a bit of white wine once the veggies where tender. This is a hearty main dish soup that can only be improved by some buttered crusty bread for dunking!
In a large stockpot or Dutch oven, cover the lamb with cold water; bring to a boil.
Add the barley, partially cover the pot, and simmer until the meat and barley are tender, about 1½ hours.
Add more water to adjust for any evaporation; skim the surface of the soup as necessary.
Remove meat from broth; cut meat from bone and cut in small pieces.
Discard the bones and return the meat to the soup.
Continue simmering.
In a skillet, melt the butter over medium heat.
Add the carrots, turnip, celery, and onion and cook stirring often for 10 minutes.
Add the vegetables to the soup.
Simmer for about 10 minutes, or until the vegetables are tender.
Add salt, pepper, and seasonings to taste.