Bergy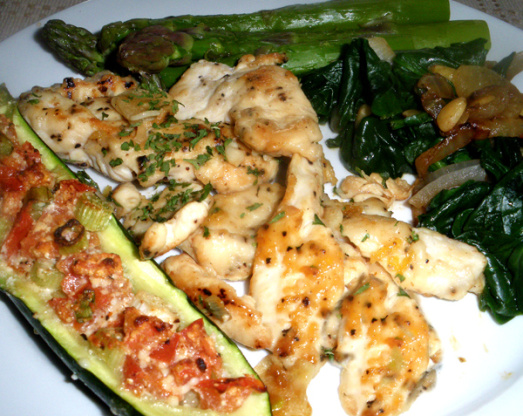 Lemon lovers, come on in! This is a fantastic, easy lemon chicken from Scoozi Restaurant in Chicago. Garlic, shallots and white wine accent this chicken; nice because there's not a lot to detract from the pure lemony taste. I find that there's not a ton of the sauce; if you wish to have extra to drizzle on veggies or whatever, I'd probably double the sauce ingredients. It's good with pasta or roasted potatoes and a nice green veggie.

Great recipe!!! Totally satisfied my lemony,garlicky,italian chicken craving!! The house smelled wonderful!!! I served this with roasted baby asparagus and orzo tossed with a little butter, parmesan cheese, and black pepper. Delish!!!! Thanks for a GREAT recipe!!
Combine the lemon zest with the melted butter and set aside.
Season chicken breasts with salt and pepper then dip in flour and pat off excess.
In a large non-stick skillet, add olive oil and saute chicken breasts smooth side down until lightly brown.
Turn chicken over and lightly brown the other side.
Add garlic and shallots and allow to lightly brown.
Add white wine and allow to reduce.
Add chicken broth and bring to a full boil, then add juice of 1 lemon, parsley, and butter mixed with lemon zest and swirl in the pan to create the"sauce".
Taste and adjust seasoning, and serve chicken breasts with sauce.