Annacia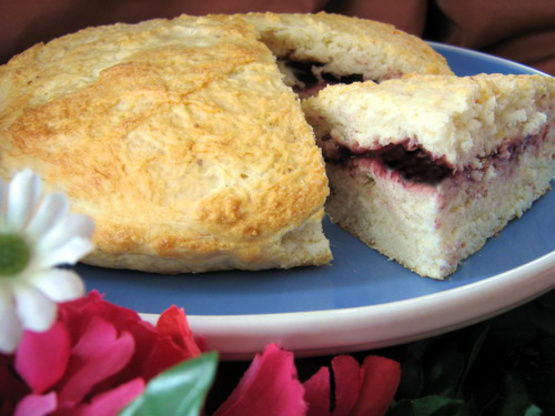 Serve with a big dollop of whipped cream. They can be also be frozen.

Another outstanding vote from me. I just love the lemon in this recipe. I trimmed the fat and sugar by replacing the sugar with Splenda, using 2 scant Tbsp of a heart healthy margarine, using egg white only and fat free coffee creamer for the double cream. My jam was no added sugar raspberry. I made it in one whole piece and baked that for 25 mins because I pressed the dough into an 8" circle on a Silpat like mat and didn't want to cut on that. Wonderful!
Pre-heat oven to Gas Mark 5/375°F/190°C.
You will need a baking tray lined with parchment paper.
Begin by sifting plain flour, baking powder and sugar in a large bowl.
Cut butter into cubes and rub into the flour mixture until it looks like crumbs.
Stir in the lemon zest.
Combine the beaten egg, vanilla extract and double cream in a small bowl.
Add the liquid mixture to the flour mixture and stir until just combined.
Transfer the dough onto a lightly-floured surface and knead gently for 1 minute.
Divide the dough in half and roll each half of the dough into a 8 inch circle.
Spread jam on one of the rolled-out dough leaving about 1/2 inch border all around.
Place the second rolled-out dough on top of the jam layer, gently sealing the edges.
Now cut the circle into 8 wedges and carefully transfer them onto the baking sheet.
Make an egg wash of one beaten egg mixed with milk and brush the top of the scones with this mixture.
Bake on the centre shelf of the oven for about 15 minutes or until lightly golden browned.
Remove from oven and transfer onto a wire rack to cool.