Rita1652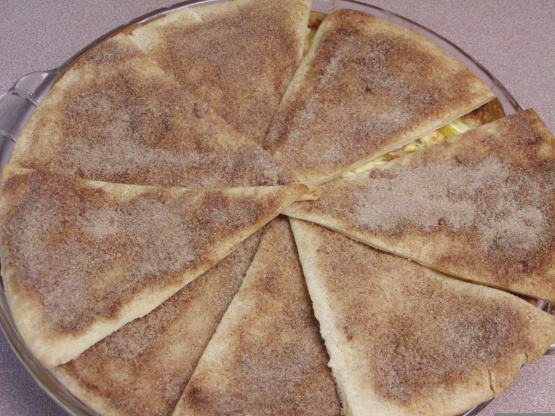 From the Elsah's Landing restaurant, Elsah, IL. A very tangy and lemony two-crust lemon pie. I'm not a meringue fan, so this is great for me! Slice the lemons as thin as possible, and I bake an extra five minutes to make sure they get cooked down.

I have made this pie several times, actually have a copy of the recipe from The Elsah Landing cookbook. When available meyer lemons are a great option. Love the taste of the nutmeg on the pastry wedges. This is a family favorite.
Preheat oven to 400.
Roll out 1/2 of the dough into 9-inch circle; Cut into 6 wedges; Place wedges on cookie sheet.
Mix 1 1/2 T sugar and nutmeg together in small bowl; Sprinkle over pastry wedges; Bake at 400 degrees for no longer than 5 minutes, or until set; Remove from cookie sheet and set aside.
Grate yellow part of rind; Peel and slice lemons very thinly; Set aside.
Cream butter, 1 1/2 cups sugar and flour in mixer bowl; Beat in eggs, then beat in water.
Stir in reserved lemon slices and grated rind.
Roll out remaining pastry to form 9-inch pie shell.
Pour lemon mixture into prepared pie shell.
Bake at 400 degrees for 25-30 minutes.
Arrange baked pastry wedges on top of filling and bake for an additional 5 minutes, or until filling is firm.