Schweizersteg Med Surfløde- Danish Sour-Cream Swiss Steak
WiGal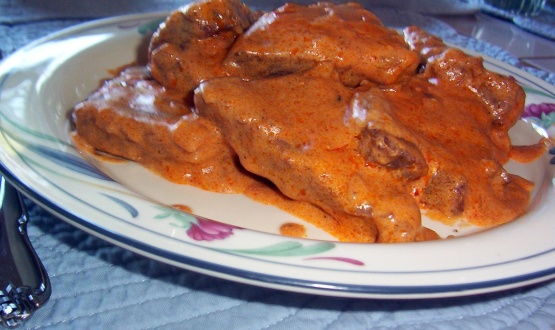 This is delicious so creamy and tender. The sauce is really tasty. It takes a little time but that's all simmering time. Serve with potato. You'll enjoy it I'm sure.

Yet another example of delicious and extremely easy to prepare European food- I was feeling like something Nordic and meaty, and this definitely fit the bill. The only things I added to the recipe was a 1/2 tsp. of garlic powder and 1/2 tsp paprika in the flour mixture. I was impressed with the cube steak coming out so tender, and the really savory gravy too. I served this with http://www.food.com/recipe/ukrainian-spinach-noodles-361315 and between the meat and spinach, it was a hunger buster. Thanks for sharing this recipe!
Mix salt and pepper with the flour and pound it into the steak.
Brown the steak in the butter.
Add onion, tomato pureé and some water and bouillon.
Cover and simmer 1 hour over low heat, or bake 1 hour at 250 degrees fahrenheit in a preheated oven.
Add sour cream and mix well.
Simmer ½ hour longer.