Schweinshaxe (Pork Knuckles)
kenbacon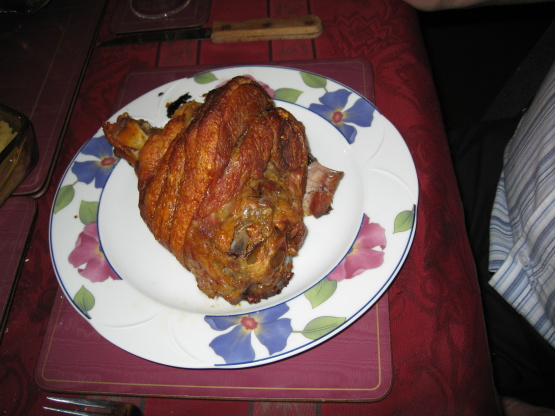 This is a traditional Bavaria dish of pork knuckles roasted in the oven rather than cooked in water (which is also known as Eisbein) The best feature is that the skin ends up roasted very crispy (knusprig)
4

fresh pork knuckles (not pickled or salted)

1

large onion

500

ml gravy mix (Bisto)
Slash the fat (skin) with a sharp knife (or get the butcher to do it for you).
Rub salt into the skin and into the slits.
Place in a roasting tin with a cup or 2 of water.
Roast in oven at 200°F/220F for 3 hours.
Every half hour turn over the knuckles and make sure the water does not evaporate. Replenish as necessary.
Chop the onion in 6 lengthwise.
At the last turn break up onion a little and drop into the roasting tin.
Remove knuckles from oven and allow stand for 10/15 minutes.
Place liquid in a separator and remove excess fat. Use remaining liquid to make required quantity of gravy, adding the cooked onions.
Serve with sauerkraut and semmel (bread) knodel for a traditional meal or with boiled cabbage a a large roast potato per person for a simpler finish.