Schoppa Da Giotta - Buendner Barley Soup
Rita1652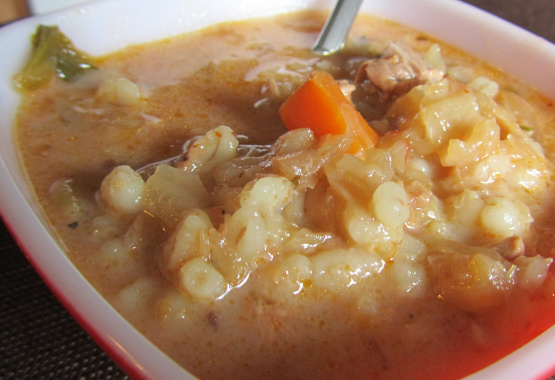 Sourced from europeancuisine.com. Simple and hearty barley and bacon soup. Submitted for ZWT7. The original recipe had a whole head of garlic but I reduced this to only 5 cloves of garlic.

Comfort food in a bowl. Hearty goodness. FYI Speck is a distinctively juniper-flavored ham originally from Tyrol. Juniper yummy! I didn`t soak the barley. I see no need for that. I did simmer soup for 2 hours. Milk was added but see no reason for that because it was ever so tasty without it. Thanks
Made for ZWT 2011
Soak the barley overnight in the 2.5 liters of water. Season this water with the salt and simmer the barley and the pork and beef in it for 3 hours over low heat.
Add the speck about halfway through the cooking period.
Wash, rinse and chop finely the vegetables, and add them to the soup about 45min before completion.
Add the milk to finish the soup, just before serving.