For those of us of the older generation. Can you remember how light and tasty the homemade rolls were that they served in the school cafeteria? Try these and let me know if you think they compare. This is a very versatile recipe and not complicated to make. Can't remember where the recipe came from but glad I found it. Like alot of recipes I come across no prep or cooking times are noted.
1 pint water (105-110 degrees)
6 cups flour
5 tablespoons sugar
6 tablespoons powdered milk
3 tablespoons yeast (3 pkgs)
1 tablespoon salt
1⁄4 cup melted Crisco
Directions
Place warm water in a mixer bowl; stir in sugar.
sprinkle yeast over the water and stir.
Add the melted Crisco.
In another bowl mix together the flour, dry milk and salt; add to the yeast mixture; beat well.
Let dough sit for awhile, then roll and cut.
Put in greased pan and let rise until double in size.
Bake at 450 until light brown.
Brush tops with butter.
NOTE: This dough can be used to make rolls, buns, loaf bread, cinnamon rolls or doughnuts.
Most Helpful
I made these rolls with my 4 year old daughter and they were absolutely delicious. Exactly the taste I was seeking! They turned out VERY large and neighbors we shared them with used them as hamburger buns!
These turned out big and delicious. My granddaughter snatched two before dinner was ready! The dough seemed a bit dry so I added 3 tablespoons of additional water. The dough was a dream to work with! I made 20 very large rolls and lowered the heat to about 375. Thanks Anita, this recipe is a keeper!!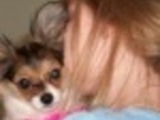 This is a very good recipe. I am a Cafeteria Manager for a middle school. I have been using it at work.