School Cafeteria Peanut Butter Bars
lets.eat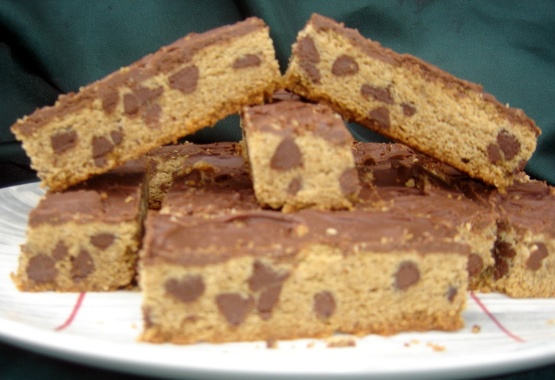 Remember those flat peanut butter bars you used to get in your school cafeteria lunches? Well, here they are!

Yum! I like these so much, I had to write in and tell everyone about a variation I just made that turned out really nicely. Add 1/2 cup chopped peanuts to the batter. Pour a regular size bag of semisweet chocolate chips over the top of the bars as soon as they come out of the oven. After a few minutes to allow for melting, evenly spread the chocolate over top. (This makes a very fast and easy frosting). Top with about a tablespoon more finely chopped peanuts. Everyone loved these, and I'm sure you will too!
Combine flour, baking soda, and salt and set aside.
Cream together the butter, peanut butter, granulated sugar, brown sugar, and vanilla in a large bowl.
Beat in egg.
Gradually beat in flour mixture.
(If you'd like, you can add 2 cups of semi-sweet chocolate chips to the mixture, but I know*my* school could never afford such luxuries as chocolate!) Spread batter into a 13x9x2 inch pan.
Bake at 375F for 15 to 18 minutes.
(If you'd like to go the extra mile past what your school could probably afford to make for your lunches, you can take 1 cup of milk chocolate chips and put them on the surface of the peanut butter bars just after you've removed them from the oven. The bar) Let the bars it cool in the pan on a rack then cut into bars.
Enjoy!
Note: reduced fat peanut butter for this recipe is not recommended, as it might make the bars drier than you'd like.