Schnecken (Sticky German Cinnamon Buns)
GaylaJ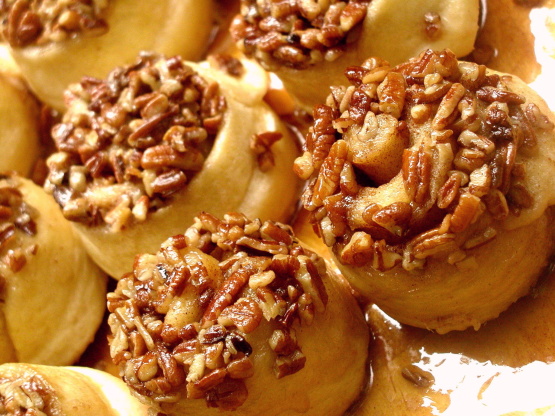 Schnecken means "snails," which is what these coiled buns resemble. They are much stickier, puffier, gooier and generally more over the top than ordinary Cinnamon Buns. These are just drop-dead good! I had them at a friend's house and stopped on the way home and bought the cookbook that the recipe came out of: How to Be a Domestic Goddess, by Nigella Lawson. I liked these even better than the Cinnamon Buns we drove for over an hour to get (only to wait in very long lines) at Knaus Berry Farm in Florida! Preparation time does not include time for letting dough rise(One hour and 20 minutes).
I'm very picky about cinnamon rolls, most are either way too bready and dry, or gummy and undercooked ala cinnabon. These are perfect, nice and light with yummy, gooey goodness! They were a big hit at Tues. morning Bible study, and my car smelled like heaven all the way! I used regular yeast, and because of a recent problem with another recipe, I proofed it for 5 minutes with the milk warmed to 115 degrees along with one tablespoon of sugar. After it had proofed I added the melted butter and eggs then the rest of the sugar, the flour and salt. I mixed the whole thing in my Cuisinart it only took about 2 minutes to mix and the dough was perfect with the stated amount of flour. I subbed brown sugar for the turbinado, I also added a tsp of cinnamon to the syrup. My only complaint with this recipe is that I found it a confusing to follow, as it seems to jump around. I had to keep reading it over and over to make sure I was doing it right and still missed something. I wish the glaze was listed as part of the filling - I some how missed that it went on the dough before cooking. Usually glaze is added at the end of a recipe, my brain didn't register it after the rolling instructions. That aside not having the glaze didn't seem to make any difference that I could tell, everyone throughly enjoyed them. Wished I had put the pan on a bigger one as suggested - they did goo all over LOL. Instead of turning the pan over onto a platter when done, I lifted the rolls out with a fork turned them sticky side down and them spooned the goo out of the cups onto the tops of the rolls. Next time I might increase the syrup amount and cook the extra in a separate dish so they can be even gooeyier. Thanks Nc for another great recipe!
Butter a 12-cup muffin pan.
Line a roasting pan or baking pan with parchment paper (for turning the sticky buns onto later)large enough to cover muffin pan.
Combine flour, sugar, salt and yeast in a large mixing bowl.
Melt butter in the milk over very low heat and beat in eggs.
Stir milk/butter mixture into the dry ingredients to make the dough. Knead for 10 minutes or for 5 with dough hook. When it is springy and satiny, form a ball and put in a greased bowl. Turn to coat and cover with plastic wrap. Leave in a warm place for 1 hour or until doubled in size.
Syrup: Using an electric mixer cream butter until soft and smooth and add sugar. Beat in syrups and then divide mixture among the muffin cups and top with walnuts (about a tablespoonful in each sticky-based waiting cup.).
Preheat oven to 350.
Knock dough back, knead once or twice and then roll out to a large rectangle (apx 24X12) with the long side nearest you. Beat egg and add milk; glaze the dough using a pastry brush or your fingers.
Mix the filling ingredients in a little bowl and sprinkle onto the dough. Now, roll up from the long side and away from you, carefully and firmly (not too tight) keeping a firm sausage shape.
Cut into 12 even slices, and lie each slice spiral-swirly cut side up, on top of the nuts and syrup in the muffin cups.
Leave to rise for about 20 minutes then put into the oven and bake for 20 to 25 minutes, by which time they should be golden and cooked: crisp in parts, voluptuously gooey in others. You may want to put a baking sheet under pan to catch any falling goo.
Place roasting pan or baking sheet on top and turn the whole thing the other way up. Remove the muffin tray and dislodge any nuts that are still stuck in it, adding them, along with any residual syrup, to the upturned buns.
Leave to cool, then stuff your face -- as if you needed encouragement.