gailanng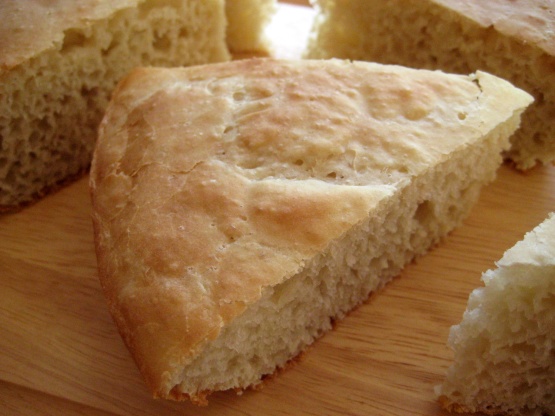 This is a clone of the bread for Schlotsky's sandwich bread. It also makes wonderful toast. Schlotsky's is a chain delicatessen. I'm not sure where all their locations are but they are popular in Texas. See the recipe for the muffalata filling that is outstanding on this sandwich.

Top Review by Laudee
My Gosh, Girl, this bread is so neat! It's really fast to mix up, bake up, cool, slice, and enjoy! Served it with Karen Monahan's Sausage and Rigatoni's and Wow, what a feast! Thanks for posting one of my new favorites! Laudee C.
Stir water, sugar and yeast together and set aside.
Dissolve baking soda in 1/2 tablespoon warm water in medium bowl.
Add warm milk, salt and 1 cup flour; beat till smooth.
Beat in yeast mixture and remaining flour (batter will be thick and sticky, but not as thick as normal bread batter).
Spray two pie pans with cooking spray and dust with cornmeal.
Divide dough and place in pie pans, cover and let rise for 1 hour.
Preheat oven to 375ºF and bake for 20 minutes till golden.
Cool 1 hour and cut in fourths.