Rita1652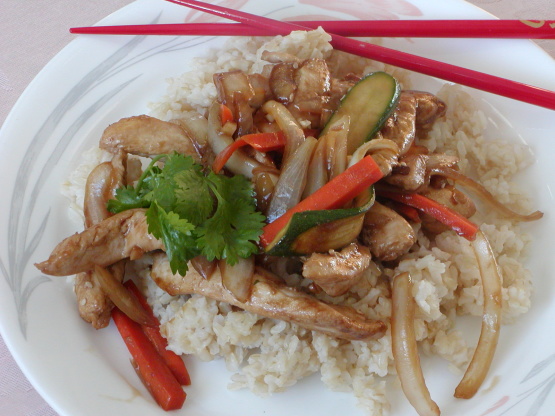 I clipped this recipe from the newspaper over twenty years ago. When it was just DH & I, this was a favorite. The kids aren't so fond of spicy foods, so I don't serve it often anymore. The first time I served it, I used the wrong spices for "heat" by mistake. When I checked the conversion later on, it turned out to be twelve times too hot. DH should've gotten a medal for eating it. But when the spices are balanced, this is a great dish.
In a wok or large skillet, over high heat, heat oil.
Add garlic& saute 1 minute.
Add chicken& stir fry till pieces turn white.
Combine soy sauce, sherry, sugar, cornstarch, ginger,& Tobasco sauce.
Add to skillet along with carrots.
Stir fry for 3 minutes.
Add snow peas& stir fry for 3 minutes longer.