Schüttel-Pizza (Shaken Pizza)
Jen T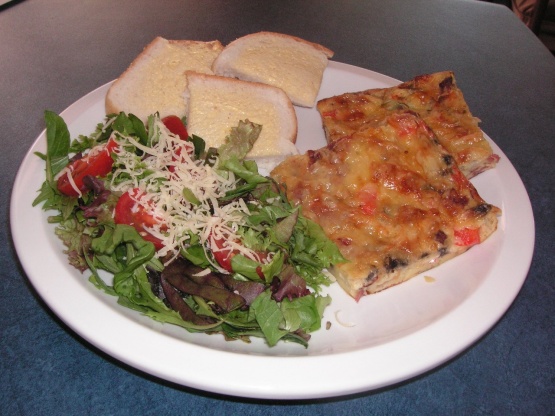 Super easy and scrumptious. A different way to make pizza.

I would not call this a Pizza! It would also never feed 12 people!
It's somewhere between an omlette and a quiche. It was quite bland, but has a lot of possibilities.
I am going to make this with browned, spicy breakfast sausage, will also add some minced garlic and use sharp cheddar cheese. That way it would be great for breakfast or even brunch.
In a bowl (with a lid) whisk together eggs, milk, flour and herbs. Batter will be thin.
Add all other ingredients, seal the bowl with a lid and give it a good shake to make sure everything is evenly coated. Kids love doing this. (or you can just stir it all together).
Pour into a 9x13 in baking pan lined with Release foil, spread evenly and top with a bit more cheese.
Bake at 400°F/200°C for about 30 minutes, depending on your oven.