Scarfies Smoked Fish Chowder
JustJanS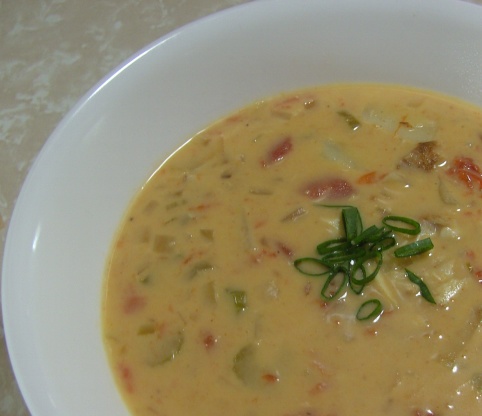 A wonderful dish in winter and a hit at a dinner party. Came from Aunty Bertha.

This was good on a cold day and made excellent use of some fish we'd smoked however it lacked "something". Some tabasco at the table lifted it a bit and I think chicken stock instead of salt and water would improve it too. I like lots of veg in my chowders, so would use carrot, capsicum, corn or peas (or any combo of whatever I had of these on hand) to add to it. I could have eaten the entire cheese sauce on its own-it was delicious.
Place potatoes, onions, celery, 1/2 salt and all the boiling water in a deep saucepan.
Add the flaked fish and simmer with lid on for 10 minutes.
While this cooks, melt butter in small saucepan. Add flour and remaining salt, pepper, mustard, Worcestershire sauce and milk.
Cook, stirring, until thick; add cheese.
Stir until melted.
Add sauce to fish and veggie mixture; stir until smooth and then add tomatoes.
Season if necessary and serve with fresh bread rolls.