Scarborough Fair Shortbread
TigerJo~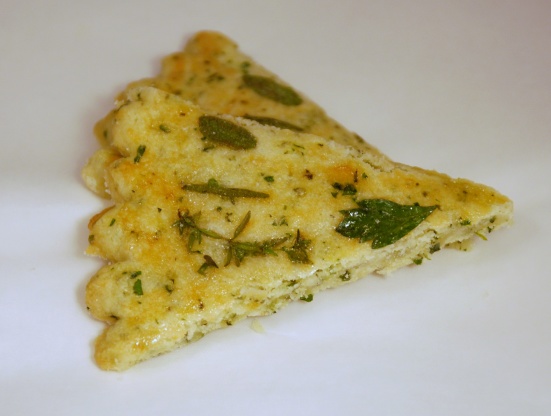 Not sure what magazine I got this from but the name is self explanatory.Will keep in an airtight container up to 5 days.

VERY good shortbread, but it takes awhile to wash & chop all the fresh herbs. They bake up brown and crispy, excellent with tea, or a glass of wine. (In answer to your query, Kerena, this recipe was on Epicurious.com, originally published in Gourmet, Sept. 2005) Definitely a recipe I'll make again!
236.59

ml all-purpose flour

59.14

ml superfine sugar

7.39

ml superfine sugar

0.59

ml salt

9.85

ml fresh flat leaf parsley, finely chopped

2.46

ml fresh sage, finely chopped

2.46

ml fresh rosemary, finely chopped

2.46

ml fresh thyme, finely chopped

118.29

ml unsalted butter, softened

1

egg white, lightly beaten

16

fresh parsley leaves, small

16

fresh sage leaves, very small

16

fresh rosemary sprigs, very small

16

fresh thyme sprigs, very small
Put oven rack in middle position and preheat oven to 375 degrees.
Stir together flour, 1/4 cup sugar, salt and chopped herbs, then add butter and stir with a fork until mixture forms a dough. Divide dough in half and pat each half into a 6 1/2 - 7" round on an ungreased baking sheet. Crimp edges of rounds and cut into 8 wedges with a sharp knife. Lightly brush with egg white and arrange 1 leaf of each herb on each wedge. Brush herbs lightly with egg white and sprinkle with remaining sugar. Prick each wedge once with a fork.
Bake until golden brown, 15-17 minutes. Recut wedges while hot, then cool completely on sheet on rack.