Scape Pesto With Artichokes
Rainbabe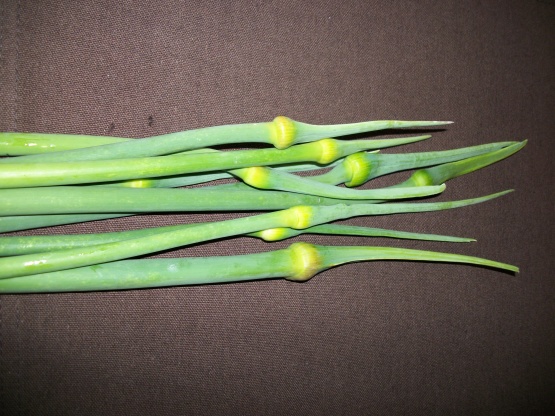 I was recently at the farmer's market and came across some onion scapes. I have never cooked with them before so I did a little research on the internet and found that pesto is a common use of garlic scapes, so why not onion scapes. They taste like the green parts of a green onion. RZ does not recognize onion scapes in the recipe posting process, so I have substituted garlic scapes; either can be used.
Cut up scapes so that they will fit in the bowl of a food processor. Add pine nuts, garlic and parmesan cheese. Process until coarsely chopped.
With processor running add oil through feed tube until a nice pesto-like paste forms. Taste, and add salt and pepper as needed.
Pour pesto into a bowl and add artichoke hearts. Toss with cooked pasta adding pasta water as needed.
Makes about 1 ½ cups pesto, enough for 4 servings.