Scandinavian Christmas Crispy Krumkake
Chummers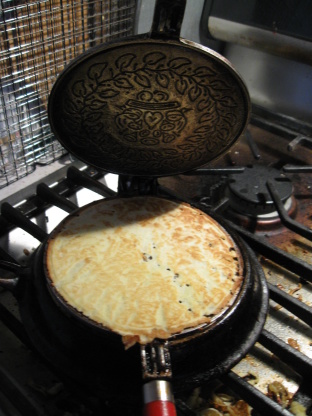 Both the Norwegians and Swedes make krumkake, the thin, crisp cookie that is baked in a special krumkake iron. The iron in heated on top of the range on a burner and looks something like a waffle iron without deep grids. Krumkake irons usually have a fancy swirled design that imprints on the cookie. It takes special skill to eat these fragile cookies as well as patience to make them! But it isn't Christmas without them in a Scandinavian household.

B. Ojakangas, the queen of scandinavian cooking has the right approach here. My family recipe has baking powder in it and is more like 4 dozen cookies by the time you finish. 1 cup butter 1 1/4 cups sugar 5 whole eggs beaten 1 cup sweet cream 2 cups flour 1 teaspoon baking powder 1 teaspoon flavoring Use cardamon, vanilla, lemon or almond. Our family tradition is almond, Sift the flower and baking powder. Otherwise follow this recipe.
In a medium bowl, cream the sugar with the butter. Beat in the eggs until mixture is light and lemon colored. Beat in the milk and flour until blended and smooth. Let stand 30 minutes.
Preheat krumkake iron over medium heat on top of range until a drop of water sizzles when dropped on top.
Open iron; lightly brush inside top and bottom with shortening, oil or melted butter. Spoon 1 tablespoon batter onto center of hot iron. Close iron. Bake about 1 minute on each side until cookie is lightly browned. Insert tip of a knife under cookie to remove from iron; roll hot cookie into a cigar or cone shape. Cool on rack. Cookies become crisp as they cool. Repeat with remaining batter. Batter will thicken as you use it; add water a tablespoon at a time as necessary to thin it to the consistency of thick cream. Store baked cookies in airtight containers. You can also keep them frozen for several months.
The Great Scandinavian Baking Book B. Ojakangas.