Scandinavian Chicken and Cabbage
loof751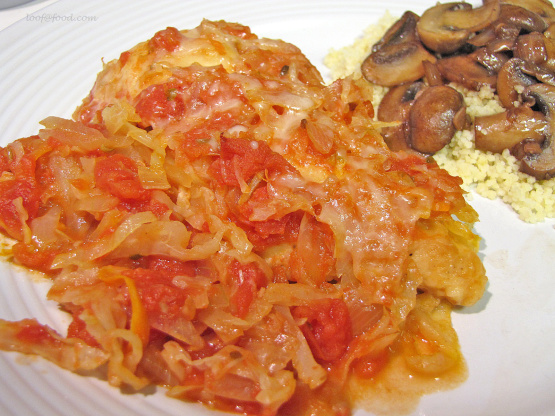 We love cabbage! I'm submitting this recipe for ZWT '07, but we're definitely going to make this soon!
My sister and I are cooking for the ZWT6 this weekend, we served this tonight for our husband's and they both liked the chicken legs with the cheese and cabbage. They both grew up with Swedish cooking, so they enjoyed this dish.
Heat oil in a large skillet over medium high heat.
Mix flour, seasoned salt and celery seeds in a resealable plastic bag. Add chicken legs, a few at a time, to bag. Shake bag to coat chicken.
Add chicken to skillet. Cook, turning occasionally, until browned, about 10 minutes. Place chicken in a medium baking dish.
Heat oven to 350 degrees F.
Add onion to skillet. Cook until tender, about 5 minutes. Add undrained tomatoes, caraway seeds, salt and sugar. Bring to a boil. Add cabbage; mix well. Spoon over chicken.
Cover dish with foil. Bake until chicken is cooked through, about 45 minutes.
Remove foil; sprinkle mozzarella over chicken. Bake until cheese is melted, about 5 minutes.