Scandinavian Almond Bread
Kayori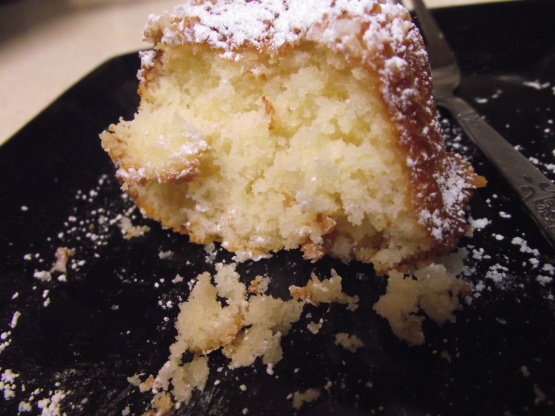 Great recipe from my mom -- 100% Norwegian -- very easy, very moist, delicious bread (cake)!

Top Review by Kayori
These were amazing! My fiance wanted something bread like to munch on and I remembered these little gems hidden away. I substituted the margarine for butter (I just don't like the fake butter taste it gives things), and baked them in a Nordic Ware Mini-Bunt Cupcake pan. They were done about 10 minutes early. They smelled heavenly, you could tell they were done just by the aroma wafting out of the oven. Doing them in the smaller pan gave each one a very nice crispy exterior. I didn't have any sliced almonds, but I did have Swedish pearl sugar, so I sprinkled that in the bottom of each tin. It adds this wonderful sugary crunch to the top once they're pulled out and flipped over. I can't wait to try it with slivered almonds. I wasn't sure what the powdered sugar was for, but I decided to dust it over them before serving. I think they'd be amazing with an almond flavored drizzle over them. ~UPDATE 2/2/12~ Made these again and added 1 tsp poppy seeds, which my fiance says gives it an almost "almond-poppy seed muffin" taste. I think it adds a really nice visual dimension as well. I also did a lemon icing drizzle (1/2 c powdered sugar, 3 tlbs lemon juice (I used 1 lemon), and about 1 tlbs water or milk. Heat over the stove in a small sauce pan until slightly bubbly) which was, well, the icing on the cake!
Beat sugar, egg, extract, and milk, add flour and baking powder, finally add margarine.
Pour into bundt cake pan sprayed with cooking spray (or specialized Scandinavian cake pan).
Bake at 350 degrees for 40-50 minutes.
Edges must be golden brown.
Cool in pan before removing.
Bread will break if removed too soon.
Sprinkle with confectionary sugar.
Cool cake in pan before removing as it can break apart.
Variation: before pouring batter into pan, sprinkle sliced almonds on the bottom.