Scampini Spaghettini a La Japonaise
Nif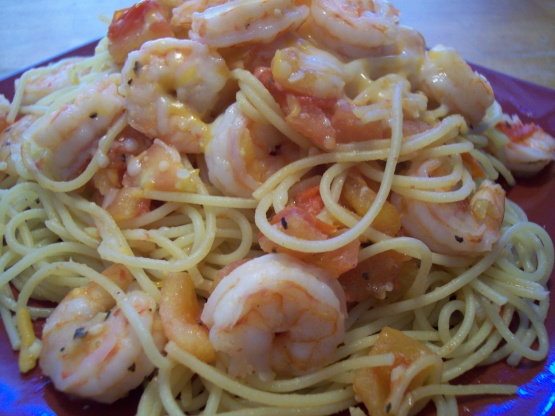 It is has a Japanese flair that is really fresh, delicious and easy to prepare.
In 1 tbsp of olive oil sauté garlic, chopped green onion whites, ginger and tomatoes till soft. Season with salt and fresh ground pepper. Boil pasta.
Add Prawns and continue cooking till prawns are half way cooked.
Once pasta is cooked to al dente rinse in hot water to remove any starch. Grandma Uyeno usually agitates the noodles by hand while rinsing to ensure the noodles are free of starch and will not stick together.
The noodles are then transferred into a large skillet or better yet a wok with another tbsp of olive oil. Heat should be medium-low so that the pasta doesn't burn.
Add the sautéed prawn mixture and toss with the pasta to ensure all the flavours are well distributed.
Serve with fresh basil and your favourite grated hard Italian cheese.