gemini08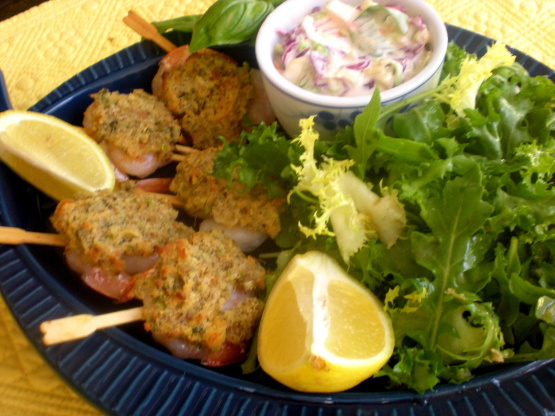 Ted Allen's In My Kitchen

This was a lovely treat with this tasty crumb topping! I served it with cole slaw and a salad of mixed greens, totally delicious! Having said that, I wish I had removed the tails....I know, it's all about presentation but it would be so much more enjoyable if one didn't have to remove shrimp tails from the mouth. So, next time, and there will be a next time, I am removing the tails, as I do with shrimp and pasta dishes. Great recipe, thanks for posting, Brooklynne26!
Preheat oven to 425°F.
In a small bowl, combine the panko, butter, egg, garlic, lemon zest, lemon juice, wine, basil, parsley and salt.
Place 2 shrimp on a cutting board, nestled tail to body, forming a yin-yang design, and thread onto a skewer. Repeat with two more pairs of shrimp, 6 shrimp per skewer. Trim the skewers with scissors if necessary and if wooden to fit on the serving plates.
Put the shrimp in a baking dish. Cover with the butter mixture, dotting it on top. Bake until the shrimp are pink and just cooked through, 10 to 12 minutes.