vrvrvr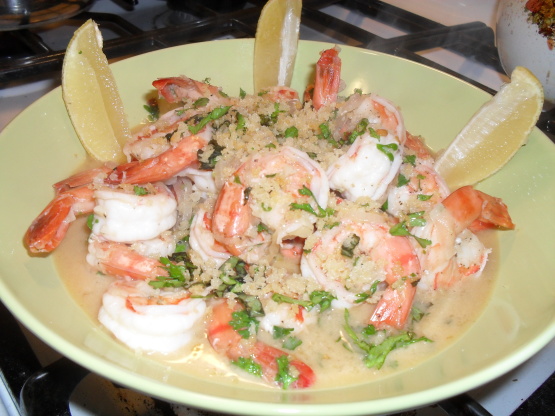 Garlicky shrimp meets spicy fra diavolo. Serve as an appetizer with grilled bread or spoon over polenta or orzo for a main course. This recipe comes from the November 2008 issue of Bon Appetit.

Top Review by vrvrvr
This was a nice shrimp dish with flavor and tolerable heat. There were a couple mixed reviews around the table. My seafood-loving son found the panko in the wine sauce somewhat off-putting. My husband thought the overall dish just wasn't up to par against other shrimp we've eaten (we tend to eat a lot of shrimp) and he thought the sauce was a little sharp. I greatly enjoyed the dish as did my 8 year old. I probably won't repeat, though, due to the entire family not loving it. But as a garlicky, wine-infused shrimp dish, this is a good bet.
Melt 1 tablespoon butter in a large non stick skillet over medium high heat. Add panko and stir until golden and crisp, about 2 minutes. Transfer to a bowl and mix in 2 tablespoons of the parsley. Wipe out skillet.
Sprinkle shrimp with salt and pepper. Melt remaining 2 tablespoons butter with olive oil in the same skillet over high heat. Add red onion and saute until beginning to soften, about 3 minutes. Stir in garlic and crushed red pepper, and saute 1 minute. Add shrimp and saute until barely opaque in center, about 1 minute per side. Add white wine and simmer until liquid is slightly thickened and reduced, 2 to 3 minutes. Season to taste with salt and pepper. Stir in remaining parsley.
Transfer to a shallow bowl. Sprinkle sauteed panko over the top and serve with lemon wedges.