Scallops With Lemon and Capers
Peter J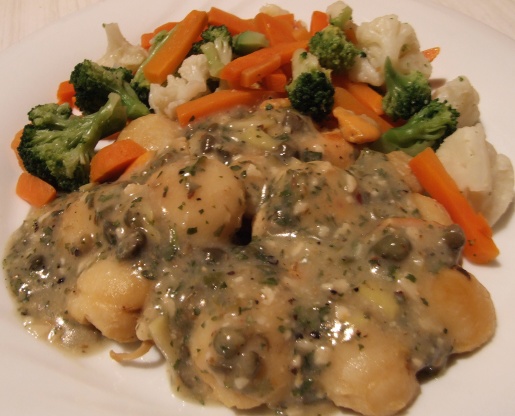 This is really delicious, and it is super-quick to make. It goes well with steamed fresh broccoli or sauteed fresh spinach. I doubled all the sauce ingredients to have a sauce for the linguini I served it on. Also trippled capers & used the green part of 4 scallions direct from our garden instead of parsley. Served along with a basket of fresh vegetables lightly coated in olive oil & seasonings.
In a 2-cup liquid measure, stir broth, capers, cornstarch, garlic, lemon zest, lemon juice, salt and pepper until cornstarch dissolves.
Melt 2 teaspoons butter in large nonstick skillet over medium-high heat. When butter just starts to brown, add scallops and cook, turning once, 4 to 5 minutes total, until the scallops are golden and cooked through. Remove to a plate.
Add broth mixture to skillet; bring to a boil. Boil 1 minute until slightly thickened. Remove from heat; stir in remaining butter and parsley. Spoon over scallops.