Scallops with Fresh Pineapple
Derf2440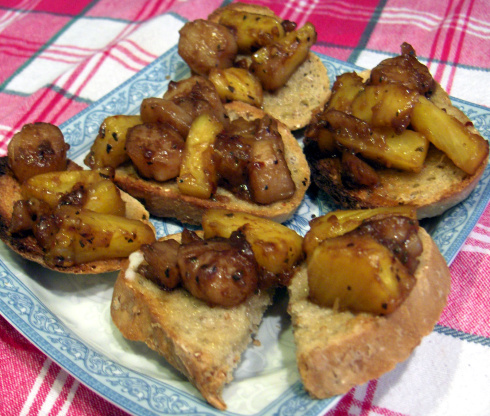 Sweet, almost a caramel/ginger flavour with lots of heat, YUM!!! I had to use dried basil but other than that made it exactly as written. Super delicious! I wanted to use them as an appetizer so i served them on small pieces of toasted rye bread, a great combination. Just made half a recipe for two of us. The pairing of fresh pineapple, the seasonings and the scallops is so flavourful!! I will be making these again, probably over the holidays, thanks so much for posting.
Heat oil in nonstick skillet over medium high heat.
Add scallops, soy sauce, red pepper, and garlic to skillet and cook for 4 minutes until scallops are opaque, stirring frequently.
Add pineapple, basil, ginger; stir well.
Combine water and corn starch and add to skillet.
Bring to boil and cook for 1 minute until thickened, stirring constantly.
Serve over rice, garnished with basil sprigs.