Scallops With Creamy Pesto
Nif_H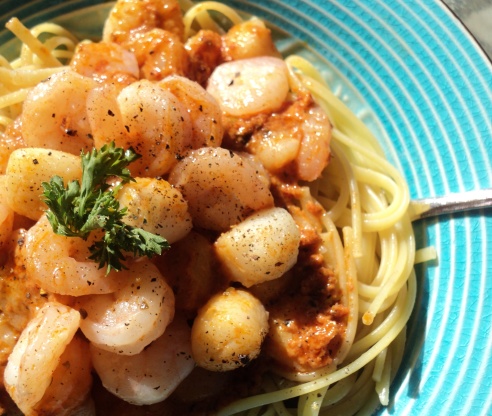 From Woman's Day. Quick and easy, nice with pasta or rice. Use your own pesto or refrigerated pesto sauce from the market. I think this would also make a nice first-course,

This is the first time I've used food.com. Made lots of homemade pesto this summer and wanted to use to make a scallop appetizer to bring for Ch. eve. Found this recipe - it was wonderful! I added a little whole milk (had no cream) and lots of parmesan cheese to the pesto - heated in the micro and placed a spoonful in each serving dish. Sauted lots of garlic in oil and added the scallops for 2 1/2 minutes. Added salt, pepper and paprika. Placed the scallops on the pesto. Delicious! (I used frozen scallops from Costco - defrosted and dried well with a paper towel before frying).
Heat the oil in a large nonstick skillet over medium-high heat.
Cook the scallops 4 minutes until golden and barely opaque in centers. Remove to plate.
Remove skillet from heat, add pesto and cream and stir quickly to blend.
Spoon the sauce onto serving plates and top with the scallops.