Scallops With Cilantro and Lime (Jack Nicholson)
Bergy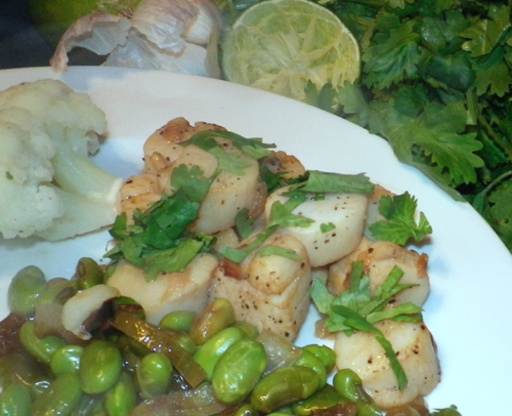 From a newspaper clipping from Cooking for Jack (Nicholson, the actor) by Tommy Baratta,1996. The blurb before the recipe says "you have to like the tart taste of lime and the pungent flavor of cilantro to enjoy this dish. It's very quick and easy to make."
Coat a large nonstick skillet with cooking spray.
heat over medium-high and add garlic and cook, stirring, 30 seconds.
Add scallops, scallions, and hot pepper sauce.
Cook, stirring, over medium-high heat 2 minutes.
Add wine and lime juice and continue cooking and stirring 3 minutes or until scallops are just cooked. DO NOT OVERCOOK or scallops will toughen.
Use a slotted spoon to transfer scallops to a platter.
Season with salt and pepper and garnish with cilantro and lime slices.