Ms B.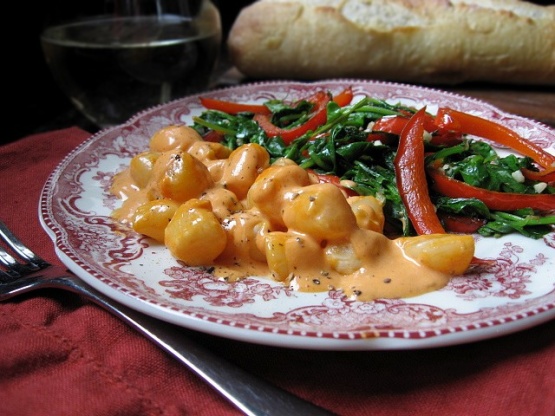 From a Shop Rite market pamphlet.

Top Review by Ms B.
Hubby and I loved the scallops and sauce with this recipe. The sauteed arugula and red peppers were flavorful and a change of pace from the pasta that usually accompanies our seafood. I served this with crusty roasted garlic baguette to sop up the sauce from the plate, and Hubby practically licked it clean. We will make this again.
Rinse scallops, pat dry and set aside.
Slice peppers lengthwise inot 1/2 inch wide strips.
In a large skillet, melt the butter over medium-high heat.
Stir fry the sweet pepper strips and garlic for 4-5 minutes or until just tender.
Add arugula; stir fry for 30 seconds or until just wilted.
Divide vegetable mixture among 4 dinner plates. Cover; keep warm.
To the same skillet, add cream and tomato paste.
Bring mixture to a boil and add scallops.
Simmer, uncovered, for 2-3 minutes or until scallops are opaque.
Remove scallops with a slotted spoon; arrange alongside vegetables.
Return cream mixture to boiling; cook for 1 minute or until mixture is slightly thickened, stirring briskly with a whisk.
Add lime juice, salt and pepper.
Spoon cream mixture over scallops.