Scallops, Mushroom, Pea Pie With Colcannon Topping
Rita1652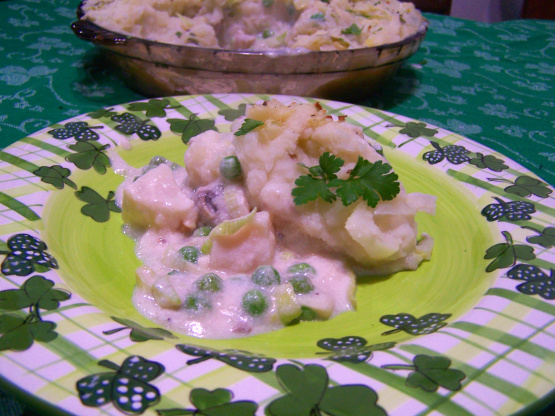 The Irish are known for their potatoes and cabbage recipes which can be bland. I add pepper flakes for a slick kick. Cooking the leeks and scallops in the milk help flavor the dish. Potatoes contain plentiful carbohydrates and some protein, calcium, and niacin. The potato topping is a mix of Colcannon and Champ or Poundies. Making this meal go father for your money.
Colcannon

6

ounces green cabbage, shredded

2

tablespoons butter

3

lbs potatoes, peeled and quartered

1

leek, white part about 1 1/2 ounces rinsed well and sliced

1

cup milk

1

pinch ground nutmeg
salt & freshly ground black pepper

2

tablespoons butter (melted to top the pie)

Scallop and Mushrooms

1

lb sea scallops, quartered (10 scallops)

1

bay leaf

1

cup milk

1

leek, white part about 3 ounces rinsed well 1 cup sliced

2

tablespoons butter

2

tablespoons flour

1

garlic clove, minced

1

pinch chili pepper flakes

2

tablespoons Irish whiskey
1⁄4 lb button mushroom, sliced

1

cup frozen peas, defrosted and drained
salt and pepper
parsley, garnish
Calcannon:.
In a medium pot bring the potatoes and water to cover to a boil and simmer until tender.
Meanwhile in a small pot simmer the cabbage, covered, with water 10-15 minutes. Drain, add butter to melt and set aside and keep warm.
Meanwhile in a small pot simmer the leeks, covered, in the milk for 10 minutes. Set aside and keep warm keep warm.
Drain the potatoes and mash them, using a potato ricer or masher, into.
a large bowl. Add the leeks with their milk, and the cooked cabbage.
Stir with a wooden spoon until fluffy. Season with nutmeg, salt, and pepper.
Scallops and Mushrooms:.
Simmer the scallops, bay leaf, leeks and salt and pepper to taste in milk for.
5 minutes.
Strain the milk, discard bay leaf and reserve leeks.
Melt the butter add flour, stir well. Gradually add heated cream, garlic, pepper flakes and whiskey. Cook for 5 minutes.
Add mushrooms, peas, scallop, and leeks.
Butter a deep pie pan or a casserole pan.
Pour the scallop mixture in pan.
Mound potatoes on the fish and top with melted butter.
Place a a sheet pan and bake to warm and brown top lightly. About 20-30 minutes.
Garnish with parsley.
Yield: Makes 6 servings.