Scallops in Swiss Cheese Sauce
Kathy228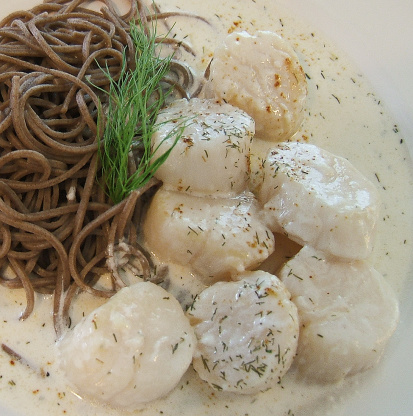 This is NOT low fat. I'm sure you can use low fat ingredients, but I've never tried it. The sauce is so satisfying and rich. I use Jarlesberg Swiss, but you can use any type. Recipe from the fish market.

Excellent recipe! I loved the subtle flavors and the ease of preparation. My only problem was locating the sea scallops. I followed the recipe exactly and we all enjoyed the meal. When I make it next time, I may substitute regular milk for the half-and-half. Definitely a keeper and highly recommend.
In a medium bowl combine cheese, mayo, salt, dill, and grated onion. Add milk and stir well. Set aside.
In a saute pan, gently saute scallops in butter for 5-6 minutes depending on size of scallops. Remove scallops to a dish and cover with another dish to keep warm.
Add the cheese mixture to the remaining butter in the saute pan, and over low heat, whisk until smooth and very warm. If too dry, add more milk a little at a time.
Return scallops to the saute pan and spoon sauce over them; continue warming to your liking. Do not boil at any time.
Serve with anglehair pasta or rice. I like soba noodles.
Garnish with dill or parsley leaf if desired.