teresas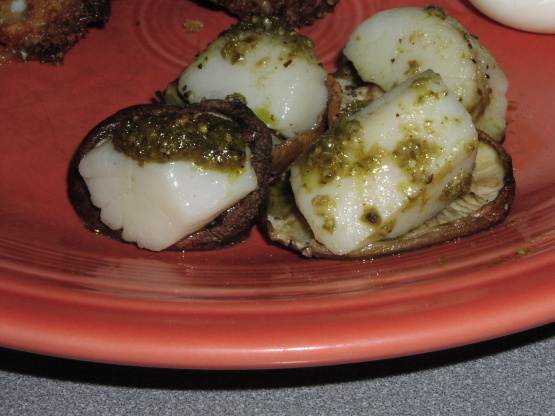 From Jillian Michaels, one of the trainers on The Biggest Loser T.V. show. The scallops can be cut in half horizontally or crosswise to fit into the mushroom caps.

Well...well..well...what to say...these are awesome...yep...nothing to really look at...but they are so darn good...oops...that was a four letter word...dang...oops another one...what can I say...but hubby and I fell in love again...no...no...not with each other but with these tasty morsels of deliciousness...they came out perfect...the scallops were tender and succulent...hmm I see a steamy novel in the works...yep...they are that good...Into my best of 2013 cookbook...now where did I put that thing...:)
Preheat oven to 450 degrees.
Arrange the mushroom caps in a shallow baking dish and sprinkle the black pepper over them; place one scallop half into each mushroom cap and spoon 1/4 teaspoon pesto onto each scallop half.
Bake the mushrooms for 10 minutes or until the scallops are done.