Scallops in Garlic Cream Sauce
Nif_H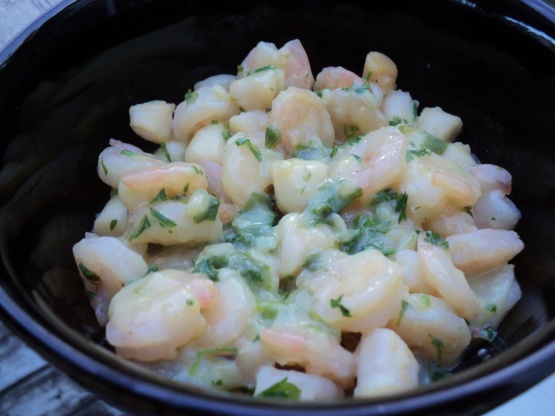 I didn't really get this recipe from anyone, it's just (for as long as I can remember) one of the basic ways that I have always prepared scallops. It's easy, quick to prepare and the sauce really complements the scallops. I've prepared this with and without the wine (on those rare occasions when I happened to be out of my favorite white wine), and it is just as delicious either way. That's why I listed that ingredient as optional.

We loved this recipe. I did sear the scallops first and doubled the sauce. Served over fresh pasta. Was a wonderful dinner!
Melt butter in a pan over medium-low heat; add the garlic, parsley, scallions (or green onions), wine, salt and pepper. Cover; simmer 10 minutes.
Add the scallops; simmer for another 5 minutes.
Remove cover; stir in the cream. Continuing heating, but do not boil, stirring constantly until sauce begins to thicken.
Serve immediately while scallops are hot. Spoon excess sauce from pan and drizzle it over the scallops.