Scallops in Cream Sauce With Spinach Fettuccine
lazyme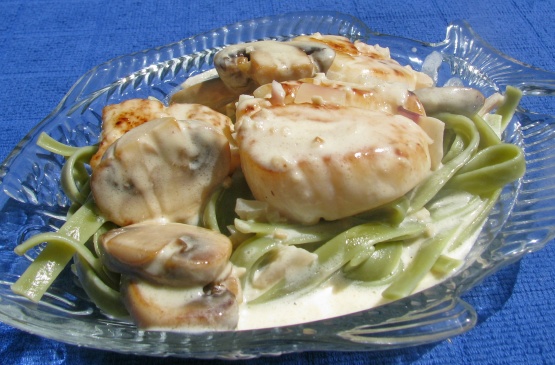 This sounds really good. From the Alaska Seafood Marketing Institute. ETA: I finally made this and liked it. I made 2 appetizer servings, then discovered that my grandson doesn't like scallops, lol. I thought that the first serving I made was a tad bland. So took my grandson's portion and played with it a little bit. I added some gruyere cheese, a little fresh tarragon and a dash of nutmeg and really liked these additions.
Sauté mushroom in butter about 1 minute.
Add scallops and continue cooking 2 to 3 minutes just until flesh is opaque.
Add cream sauce; bring to simmer and cook 1 minute.
Arrange well-drained noodles on serving plate and top with creamed scallops.
Garnish with cheese and parsley.
Cream Sauce:
Sauté shallots and garlic in butter until transparent.
Deglaze pan with vermouth.
Add cream; bring to simmer and reduce by 1/3 or until slightly thickened.
Add lemon juice and season to taste with salt and pepper.
Serve over fettuccini.