Scalloped Tomatoes With Parmesan
Junebug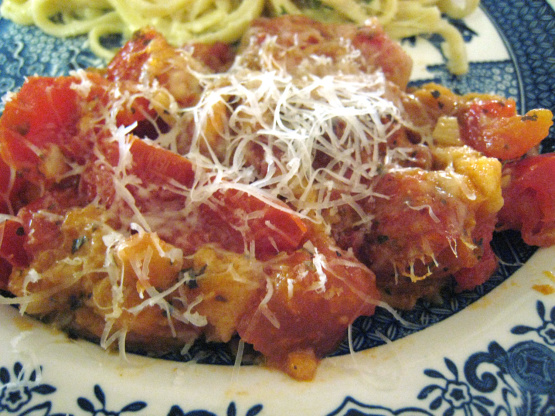 Use fresh tomatoes, rather than canned for this most comforting hot vegetable side dish. From Sarah Leah Chase's Cold-Weather Cooking.

I wasn't real sure what to expect from this recipe, but what I got was an outstanding and delicious side dish for my fettucine alfredo! This was very easy to put together and uses ingredients I normally have on hand. Like the other reviewer I didn't have any bacon grease, but I just fried up a few pieces of bacon while I was cubing the bread, chopping tomatoes and mincing the garlic. After removing the bacon I just dumped all of it in the hot grease and proceeded with the recipe. I did use the sugar and loved the contrast of sweet with the flavor of the basil! I halved this recipe as I was only serving 2 of us and we didn't have even a crumb left! It took about 20-25 minutes to cook. Thank you so much for sharing your recipe Culinary Queen!
Preheat oven to 350F/180°C.
Heat bacon fat in large heavy skillet over medium heat. Add bread cubes and stir to coat evenly. Saute until lightly browned all over, about 5-7 minutes.
Add the tomatoes, garlic and sugar to the pan. Cook, stirring frequently, about 5 minutes. Season with salt and pepper, tben stir in the basil and remove from heat.
Transfer tomato mixture to a shallow 1 1/2 quart casserole dish. Sprinkle with the parmesan and drizzle with the olive oil.
Bake 35-40 minutes, until bubbly and lightly browned.
Serve and enjoy!