Mami J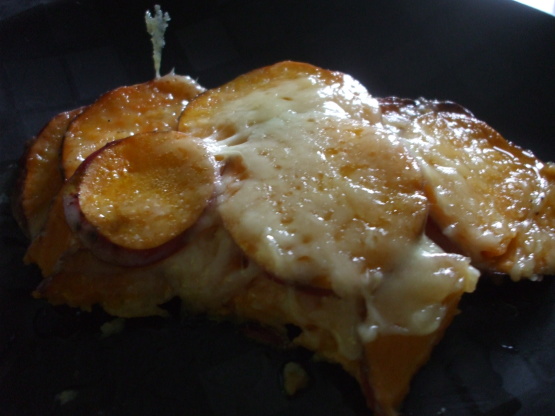 A friend of a friend brought this to a potluck I had years ago, and I got the recipe because it was great to find a recipe that is different than the typical sweet potato casserole. I've never made it but definitely will now that I'm cooking more.

Top Review by Mindy2
Made this for dinner today. I had to bake them at 325 instead of 425 because of the turkey tenderloin I had in the oven. Turned it up the last 10-15 minutes. After eating, DB and I were sitting there saying it needed something. He said add cinnamon, then it went to paprika, then I said cayenne pepper. I pulled out the cayenne pepper and sprinkled it on a serving. That did the trick! This one is a keeper and would be a great potluck recipe. Thank you!
Preheat oven to 425 degrees.
Spread half of the sliced potatoes in the bottom of a lightly buttered baking dish.
Sprinkle with half of the butter and cheese.
Season with salt & pepper.
Add remaining sweet potato slices.
Pour milk over potatoes.
Top with remaining butter and grated cheese.
Bake covered for 30 minutes. Remove foil and bake for an additional 15 minutes or until potatoes are tender. Let sit for 10 minutes before serving.