Janni402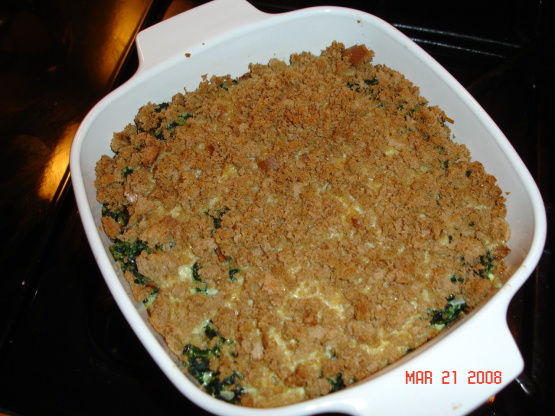 My great-aunt made this for lunch when I was visiting and I loved it. It was not like anything else I'd had (was only in my 20s at the time) and, fortunately, she willingly shared her recipe. I haven't tried it w/ fresh spinach but I think it would be even better. (Recipe is easily doubled) EDITED TO ADD: I made this using parmesan cheese for a holiday dinner and loved it. Also left off the bread crumbs and didn't miss them a bit!

Top Review by Jezski
I'll not rate this because although it was good, it just wasn't to our taste. And taste is certainly a personal thing!
Combine spinach, onion, eggs, milk, cheese, salt, and pepper.
Turn into 9x5x2" loaf pan; top w/ buttered crumbs.
Bake at 350 degrees for 20 minutes or til knife inserted halfway between the side of the pan and the center comes out clean.