ImPat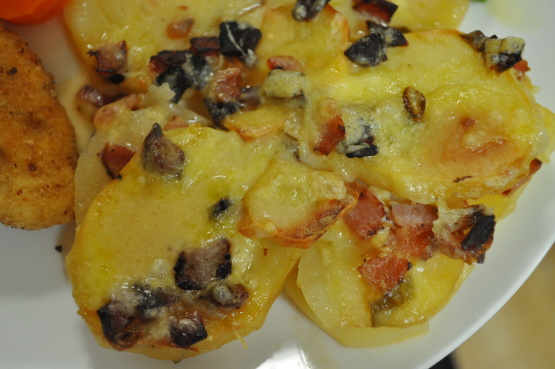 I was thumbing through the family cookbook and found a couple variations for scalloped potato's..I referred to both recipes and tweek'ed it a bit. This is a large recipe that I use for party's as a dish to pass, etc. But can be easily scaled down. I prefer to leave the skins on, but it's up to you, tastes great either way.

Actually made this for a neighbor couple to take to a potluck here in our mobile home park (she'd hurt her hand the other day & won't be able to use it much for about a week), so some of the neighbors have been helping her out! Anyway, the recipe was made as given, & was one very popular dish on the serving table! I was near the end of the line & there was hardly any of it left, so I figure that rates it at the top! I'll certainly be making this again, for sure! Thanks for sharing the recipe! [Made & reviewed in Zaar Stars recipe tag]
combine cream cheese, broth and milk in saucepan and heat to a boil, stirring constantly. remove from heat when cream cheese is melted.
reserve 1/4 of bacon.
In a large size baking or casserole dish, layer half each of potato's, onions, ham, bacon, and 3/4 cup cheddar, repeat and top with the sauce, cover with oven safe lid, or foil.
bake at 350 degrees for 1-1/2 -2 hours or until potato's are fork tender.
remove cover, top with remaining cheddar cheese and remaining bacon and bake an additional 10-15 minutes until cheese is melted and browned to perfection.