Scalloped Potatoes and Ham
diner524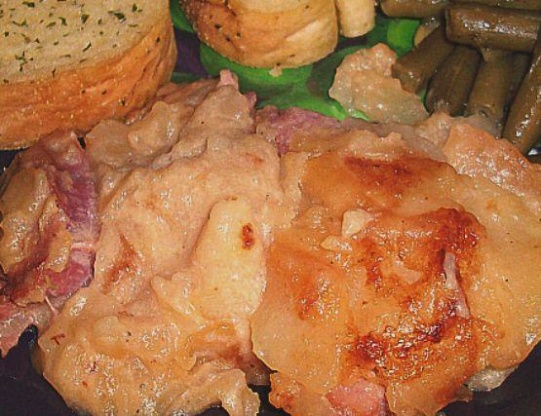 This is a side dish I make using leftover ham from Easter. It is yummy.

I love this recipe. It is so good. I tried it and then I had to let the rest of my family try it. My family thinks it is delicious also. I made it for my mom and dad and they said it is the best scalloped potatoes and ham that they have ever had. The only thing that I changed is I made more sauce and I added more pepper than it called for.
To make sauce, cook onion in butter till tender but not brown. Stir in flour, salt and pepper. Add milk. Cook and stir till thickened and bubbly. Cook and stir 1 to 2 minutes more. Remove from heat.
Place half of the sliced potatoes in a greased 2 quart casserole. Top with half of the cooked cubed ham. Cover with half of the sauce. Repeat layers.
Bake, covered, in a 350* oven 45 minutes, stirring once. Uncover, bake 30 to 45 minutes more or until potatoes are done.