Pismo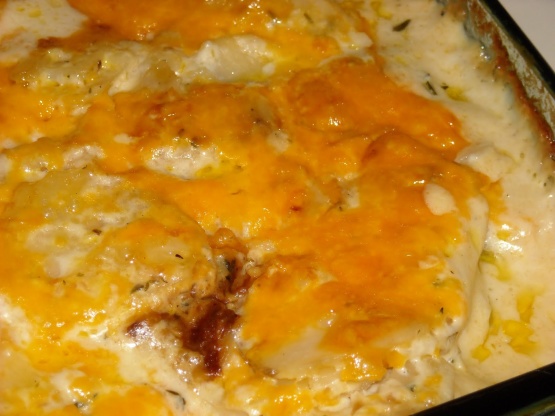 From America's Test Kitchen: "The quickest way to slice the potatoes is in a food processor fitted with an 1/8-inch slicing blade. If the potatoes are too long to fit into the feed tube, halve them crosswise and put them in the feed tube cut-side down so that they sit on a flat surface. If the potato slices discolor as they sit, put them in a bowl and cover with the cream and chicken broth. If you like, use Parmesan instead of cheddar."
Adjust oven rack to middle position; heat oven to 425 degrees.
Melt butter in large Dutch oven over medium-high heat until foaming subsides.
Add onion and cook, stirring occasionally, until soft and lightly browned, about 4 minutes.
Add garlic, thyme, salt, and pepper; cook until fragrant, about 30 seconds.
Add potatoes, chicken broth, cream, and bay leaves and bring to simmer.
Cover, reduce heat to medium-low, and simmer until potatoes are tender (paring knife can easily be slipped into and out of potato slice), about 15 minutes; discard bay leaves.
Transfer mixture to 8-inch-square baking dish (or other 1 1/2-quart gratin dish) and press to an even layer; sprinkle evenly with cheese.
Bake until cream is bubbling around edges and top is golden brown, about 15 minutes.
Cool 10 minutes before serving.
To Make Ahead:
Once the scalloped potatoes have been transferred to the baking dish and pressed into an even layer, they can be wrapped in plastic wrap and refrigerated for up to 24 hours.
When ready to bake, add the cheese, cover with foil, and bake in a 400-degree oven until the mixture is hot and bubbling, about 45 minutes.
Remove the foil and cook until the cheddar begins to brown, about 30 minutes longer.
Let cool for 10 minutes before serving.