Nimz1466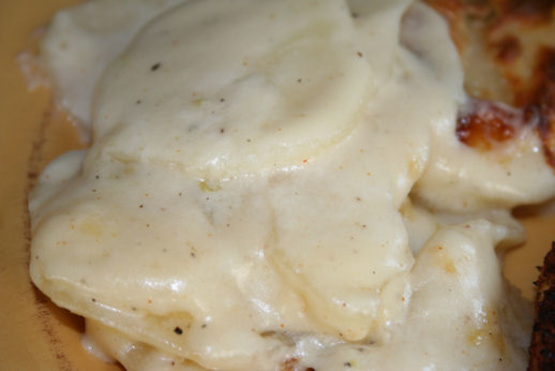 A tried and true favorite of ours.
I think this is a great recipe, I've been making this my whole life. It was very hard to find a recipe that did not have cheese in it that said it was scalloped potatoes. I am not sure why many don't realize that by adding cheese its no longer scalloped potatoes its now been turned into Au Gratin potatoes. But to each his own. You really brought a great meal to the table Looney.
To make sauce, cook onion in butter till tender but not brown. Stir in flour, salt and pepper. Add milk. Cook and stir till thickened and bubbly. Cook and stir 1 to 2 minutes more. Remove from heat.
Place half of the sliced potatoes in a greased 2 quart casserole. Cover with half of the sauce. Repeat layers.
Bake, covered, in a 350* oven 45 minutes, stirring once. Uncover, bake 30 to 45 minutes more or until potatoes are done.