Whisper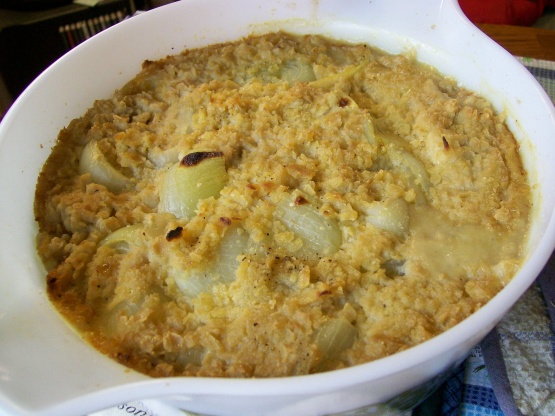 This recipe came from my MIL. It was always served at special family meals like Thanksgiving and Christmas. It's very easy to make, and so delicious! I hope you enjoy it as much as we do.
3

lbs of small boiling onions
1⁄4 lb premium saltine crackers, 1 pack
1⁄4 lb butter
salt and pepper
1 1⁄2 cups milk (approximately)
Boil the onions for about 10-15 minutes; drain.
In a 2 qt casserole, layer half the onions, half the crushed saltines, salt and pepper to taste, and half the butter, cut into chunks and dotted over the top.
Repeat the layers.
Cover with milk, just enough that it comes to the top layer of onions but not over the top of them.
Bake uncovered at 350 degrees for about 20 minutes until browned.