Scalloped Ham and Potatoes
Parsley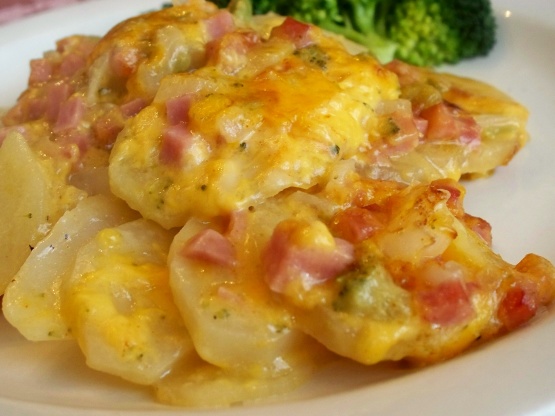 This is an easy, forget about it crockpot recipe.
I also mixed the can of soup with milk (actually 3/4 can cream and 1/4 water because my milk had gone sour) and parboiled the potatoes and onion before assembling the dish. It still took an extra 15 min. to get completely done, and could have easily stayed in the oven 30 more min. I think this dish would be better with either cream of mushroom or cream of chicken soup than the cream of celery. While that was not bad, it just could have been better. I may try this again in the crock pot, but probably not, because raw potatoes never get quite done to my taste in the crock pot. It was tasty as it was, but just not quite the stellar dish I had hoped for.
Alternate ingredients in cooker as follows:.
Half of the ham, potatoes, onions, salt and pepper and cheese.
Repeat with second layer.
Spread soup over top.
Sprinkle with paprika if desired.
Cook on low 8-9 hours OR on high 4-5 hours.
Note:.
May also use oven at 350 degrees for 1 hour.